If you are looking for a brush clearing service, look no further than Southern Brush's bush hog services! We are experts in bush hogging and can clear any area of overgrown vegetation quickly and efficiently.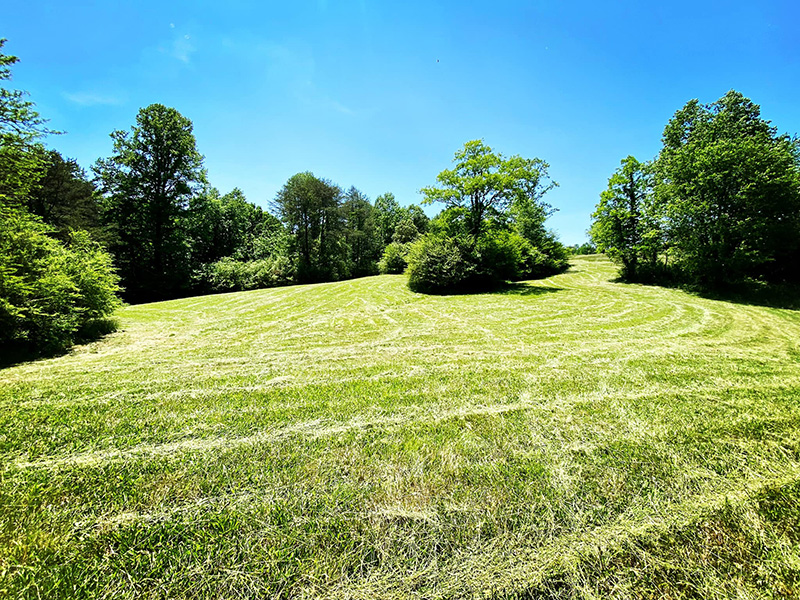 What is Bush Hogging?
Bush hogging, also known as "brush hogging," is a type of brush clearing service that uses heavy equipment to remove undergrowth, saplings, and other small trees from an area. It is often used in rural areas to clear land for farming or grazing livestock. Bush hog services can also be used for forestry purposes, power line maintenance, and more.
Nowadays, we mostly see bush hog services requested to maintain large tracts of land such as pastures, ranches, and public lands along roadways. Bush hogging leaves grass and brush with a rough-cut finish at about 6 inches high. We typically leave the cut grass/hay behind, which can be aesthetically pleasing and also great for animals out to pasture.
How it Works
Our bush hogging services are performed by certified and experienced professionals. We will come to your property and assess the area that needs to be cleared. Once we have a plan of action, our team will get to work quickly and efficiently to clear the area of all brush. We always take care to protect any trees or other vegetation that you do not want to have removed.
Who needs bush hogging services?
Anyone who has an overgrown area on their property can benefit from our bush hog services! This includes farmers, ranchers, landowners, businesses, homeowners, and more. If you have an area of your property that is difficult to access or maintain because of overgrowth, we can help!
We also offer bush hogging maintenance service. This is great for commercial properties or lots, roadsides, as well as large residential properties with two or more acres of land that need regular servicing to maintain a cleaner, safer finish. Maybe your property has become overgrown due to lack of maintenance, or you just bought a property you're looking to revive. Either way, bush hogging is the perfect solution.
Although some folks choose to brush hog their own properties, many find that hiring a service is much more convenient, safe, and efficient. No need to take the risk of coming across snakes or other risks in the high brush!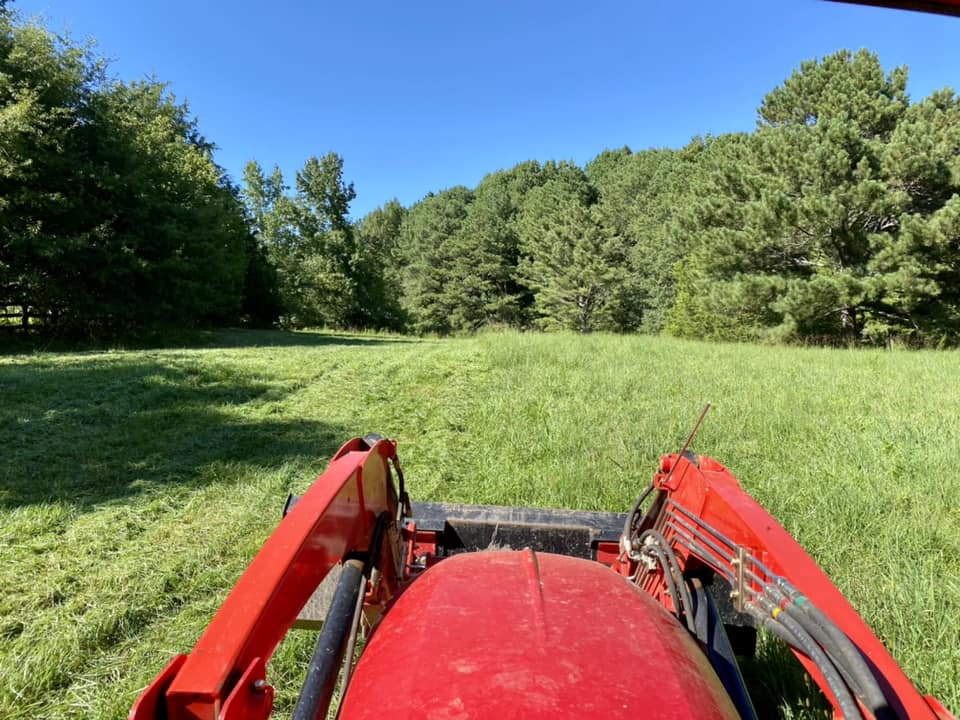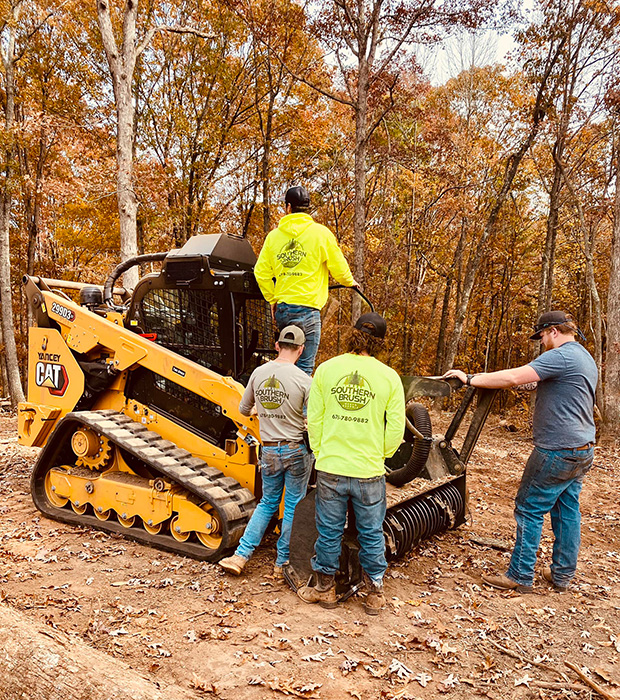 Equipment
At Southern Brush we use only the best equipment for our bush hog services. This includes heavy-duty brush cutters and bush hog tractor attachments that can handle any type of vegetation. Our team is also trained in using this equipment safely and efficiently.
Unlike ride-on mowers, bush hogging equipment allows for a better turn radius and a much broader coverage. Whereas a ride-on mower might have a 48-inch deck, our tractor bush hogs have a 6 or 7-foot deck. This way, we get the job done quicker and more efficiently than you could on your own or with a residential lawn service.
Frequently Asked Questions
Here are some frequently asked questions about our bush hog services:
What is the difference between brush hogging and bush hogging?
Bush hogging is also known as brush hogging, rotary cutting, trailer mowing, heavy-duty mowing, brush cutting, and rough cutting mowing. But it's all the same form of landscaping that eliminates heavy brush to prepare land for farming, hunting, development, or a variety of other uses.
How much does bush hogging cost?
A: The cost of our bush hog services depends on the size and scope of the project. We will provide you with a free estimate after assessing your property.
How long does bush hogging take?
A: The time it takes to complete a Bush Hog project varies depending on the size and scope of the project. However, our team works quickly and efficiently to get the job done as soon as possible. It generally takes a professional 1 hour to bush hog an acre, however, this also depends on the thickness of the trees and brush to be cleared, as well as the terrain of the property.
Is bush hogging a DIY job?
Some land owners do take on bush hogging their properties. However, it can be labor intensive, expensive to rent or maintain equipment, and dangerous if you're inexperienced or unfit.
What time of year should you bush hog?
Most property owners opt to bush hog during the middle to the late weeks of summer as weeds begin to appear in pastures and fields. However, the quality of land being worked, the climate of your area, and seasonal weather may require you to schedule two or even three brush hogging sessions throughout the year. Aim to bush hog your property in the spring, fall, or winter.
Can a bush hog take down trees?
A bush hog can take down saplings. If your land has more mature trees, we can come in and clear those out before completing our bush hog services.
Do you offer other services?
A: Yes, we also offer forestry mulching, mowing, landscaping, and other property maintenance services. Contact Southern Brush today to learn more!
The Southern Brush Difference
Bush hog services are an efficient way to clear large areas of overgrown vegetation quickly. Our Southern Brush team of certified professionals uses only the best equipment to get the job done right. Let us tackle the chest-high shrubs and weeds to help you retake and revive your land. Contact us today to learn more about our bush hog services or schedule a free estimate!