Southern Brush offers dump trailer rentals for residential or commercial use. From property restoration to simple spring cleaning, we're here to help. We drop, you load, we dump!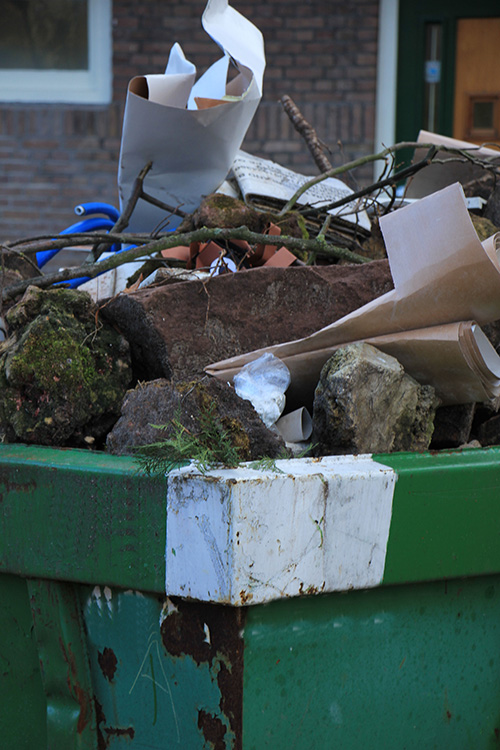 Dumpster Setup and Installation
Our team will request information about your project, current waste collection service, and other needs. After assessing your unique information and ensuring that we can provide you with a competitive price, Southern Brush will order and install a dumpster trailer safely at your home or business waste collection point.
Rentals to Meet Needs Big and Small
From large construction and renovation projects to household cleanups and yard projects, if you find that you need a dumpster trailer or hauling across Georgia, Southern Brush has options for you. We offer 15-yard dumpster trailers at affordable prices for your project. Your "find a dumpster near me" search has brought you to the right place! Reserve your rental dumpster trailer by contacting us today.
Construction Dumpsters
Doing a home or business renovation? Don't worry about drywall scraps, old cabinets, or cracked roofing shingles. Keep your construction site free of debris with a sturdy trailer.
Commercial Dumpsters
You take care of business, and we'll take out the trash. Southern Brush commercial dumpster rentals can accommodate cleanups of any scale or type, whether you have one location or dozens.
Residential Dumpsters
Are you cleaning out your attic or basement? Finally tackling yard work? Book a residential dumpster trailer and get quick delivery to your home. We'll pick it up and dump it when you're ready.
Rent a Dumpster Trailer for Junk
Are you planning to clear out the storage or declutter the garage? Every year Americans waste thousands of dollars on storage units holding forgotten junk. Clearing out and dumping unwanted items can save you money and space.
At Southern Brush, we help you reclaim both indoor and outdoor spaces to tackle yard, home cleanup, and roofing projects with ease.
Utilize our 15-yard dump trailers for home renovations, outdoor jobs, and all kinds of decluttering. The 15 cubic yard size is the most common for residential clean-up jobs, plus the benefit is that they are on rubber wheels. Instead of metal dump containers that could damage your driveway or sidewalk, our trailers are easy to move.
Quick & Reliable Dumpsters Trailers
As a premier residential dumpster rental company, we believe that quickly getting a waste receptacle can be imperative, whether for a residential or commercial endeavor.
We offer competitive dumpster dispatch time and will always remove the full container when your project is complete. We have a terrific team of dumpster specialists who will walk you through the details, and help you set the drop-off and pick-up schedule.
Are you in a bind and need a container immediately? We offer free consultations to evaluate your disposal needs, brainstorm a perfect solution for your debris, and generate a free dumpster rental quote for you. Quickly and reliably.
Residential Dumpster Rentals
We offer straightforward solutions to everyday home junk. Some of the residential projects that could require a dumpster include:
Home Renovations
If you are renovating your basement, bedrooms, bathrooms, or maybe even the entire house, you could end up with heaps of debris to dispose of. Our 15-cubic yard unit will comfortably handle residential remodeling debris like lumber, drywall, cardboards, roofing materials, and much more.
Household Cleanouts
If you're cleaning out a shed, garage, basement, or attic, you may not realize the volume of junk you have. Residential dumpsters are great for containing and hauling all the odds and ends that pile up from household cleanouts.
Landscaping
Are you sprucing up your property or doing some major yardwork? We can eliminate yard garbage like branches, trimmings, stumps, leaves, dirt, and anything in between. Our team can handle the clear-out and mulching process for you! Or if you've already done the work and just need it hauled away, we can take care of that, as well. We can also help you haul landscaping materials with our dump trailer, including dirt, gravel, and sand.
Yard Renovations
Taking down a gazebo or shade structure that's starting to rot or just doesn't fit your yard design? No problem! We can handle the removal and cleanup.
Downsizing
Whether you're preparing for a move, downsizing to a smaller home, or moving a kid off to college, it may be time to cut down on items that have been piling up around your home and storage spaces. Book a residential container rental for downsizing or cleaning!
Commercial Dumpster Rental Services
Contractors have a lot on their plates. Tasked with managing the work, subs, budget, and timeline, many contractors have their hands full! With tight deadlines and unforgiving building owners, outsourcing your dumpster and hauling needs can be a huge relief. Let Southern Brush take the stress of trash removal off your shoulders.
Southern Brush is pleased to offer dumpster trailers and hauling services to serve your commercial waste and recycling needs. Whether you are constructing a new multi-unit building, remodeling a current office space, handling a major clean-out before a demo, or working on roofing projects, we can offer a waste disposal solution that fits.
Our experienced team has worked in construction, landscaping, and forestry services, bringing a unique and varied approach to all our jobs. From our owners to our delivery drivers, the Southern Brush staff strives for excellence in everything we do. We are available to provide assistance and advice when needed, and we work hard to make renting a dumpster as simple as possible.
The Southern Brush Difference
We are a family-owned and operated local business. We pride ourselves on great customer service and a problem-solving attitude toward any project.
We Deliver
Our team ensures prompt delivery from drivers trained to the highest standards of safety and professionalism in handling dumpsters and waste.
Setup & Access
We make it simple for you to contact us and manage your project with convenient scheduling and support.
No Surprises
With Southen Brush, you can expect honest, up-front pricing and no hidden fees.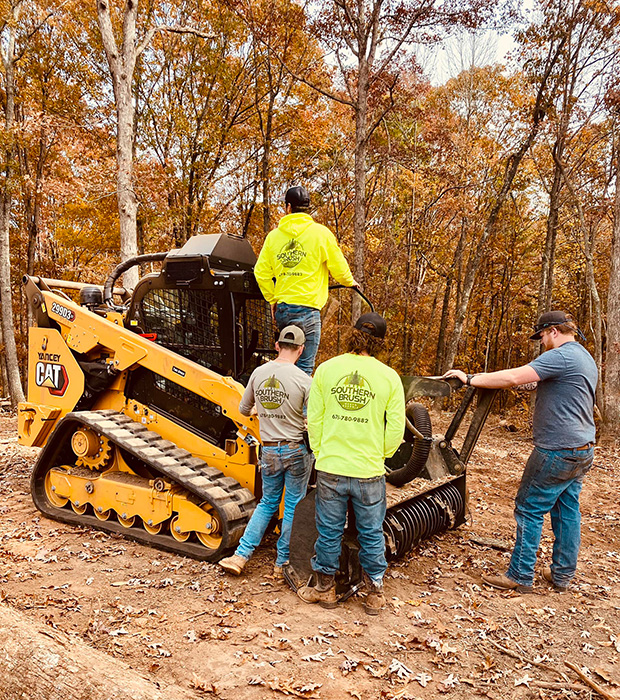 Frequently Asked Questions
What type of cleanup jobs do you handle?
We provide dumpster trailer rental and hauling services, handling residential and commercial renovation, landscaping, and construction projects across Georgia. Whether you have a kitchen demolition and remodel or are developing an apartment building, we can provide a container and haul the debris. Some of the typical projects we support include remodeling, roofing, construction, home cleanouts, landscaping, office remodels, and many others.
Does Southern Brush offer different dumpster sizes?
We prove 15-cubic yard dumpster trailers on wheels. Although these aren't the largest dumpsters on the market,  we find that our 15-yard trailers get the job done. They are commonly used for commercial construction sites and large-scale residential projects alike.
You can use these dumpster sizes to offload concrete, drywall, metals, wood, rocks, yard debris, or even house junk.
How do I know if I need to rent a residential or commercial dumpster?
You will need a residential dumpster if you are removing household junk, such as cleaning out the garage, landscaping your yard, or paving your driveway.
A commercial dumpster is best for larger commercial projects like office building cleanouts, construction jobs, demolitions, estate clean-ups, and other projects that will result in a greater amount of debris. However, with a 15-yard dump trailer, it's easy to fill and dump as needed. This is often a better option than a large dumpster container that could damage your property. 
What is the process for renting a dumpster?
To rent a dumpster, you will need to call us with details and schedule a session to evaluate your project needs. When we speak with you or come out to your site, we will estimate your debris, set rental periods, and schedule the delivery of the trailer to your location. It's typically a quick call that will only take a few minutes. 
Once you place your order, our skilled team will transport the dumpster trailer to your job site's exact location on the agreed-upon delivery date. We will give you the cost of the project upfront with no hidden fees. Then it's up to you to toss the trash and contact us to remove the full trailer when your project is complete. 
Do you offer same-day delivery for a dumpster?
While we will do everything we can to provide you with a dumpster trailer on the day you need it, it's best to call at least one day ahead to arrange for the delivery of your trailer. In some cases, if there is availability (for example, if you were to call first thing in the morning), we may be able to accommodate same-day delivery of your dumpster. Just give us a call, and we will work with you to meet your needs as best we can!